WELCOME TO
SWANAGE PODIATRY CLINIC
PROBLEM FEET, YOU'RE IN THE RIGHT PLACE
Nothing really. The term 'Chiropody' has traditionally been used in the United Kingdom, but in recent years 'Podiatry' is more commonly used within the medical professions. 'Podiatry / Podology' is the internationally recognised term for the speciality of foot care.
Podiatrists under take a 3-year professional training, resulting in Registration with the Health and Care Professions Council (HCPC Reg), and membership of The Royal Society College of Podiatry (RCPod)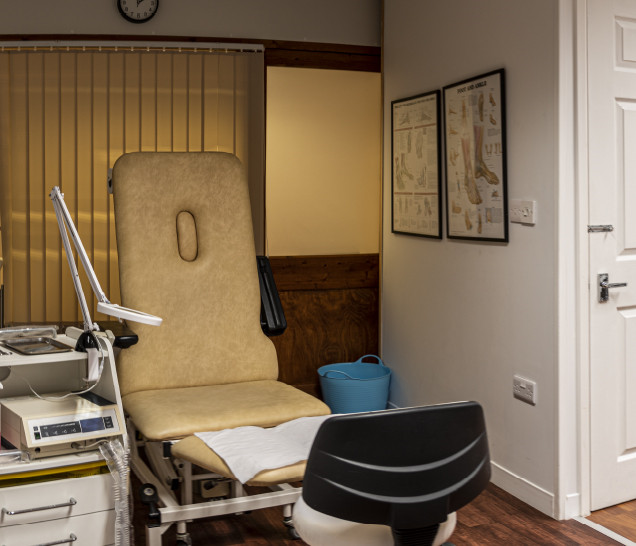 HCPC & RCPOD REGISTERED PRACTITIONER.
I have worked in private practice for the last 25+ years. The practice initially focused on serving patient needs in their own homes, but 11 years ago I opened the doors to a new purposely designed clinic.
My focus is helping you achieve a better foot health. Whatever your age, it is important to have healthy pain free feet. Mostly, we forget about feet until they hurt. Being comfortable can make the difference between feeling free and mobile, or being restricted and inactive. Regular foot care treatments can have a huge effect on your mobility and your social life, regardless of age.
GENERAL CHIROPODY / PODIATRY
Podiatrists are healthcare professionals who have been trained to prevent, diagnose, and treat foot health problems
Diabetic patients can suffer from circulation issues and nerve damage, due to the high levels of sugar in the blood
ATHLETES FOOT AND FUNGAL NAILS
Where does fungus come from? We all naturally have fauna and flora on our bodies. In the modern world we live in
Verrucas are caused by a virus called the Human Papilloma Virus (HPA) and can spread if left untreated. They appear like a
INGROWING TOENAILS & NAIL SURGERY
Ingrowing toenails have several causes:
1. Poor cutting technique
2. Picking of the nail as opposed to cutting
These curved, pincer like, tight nails can be extremely painfull.
In some cases, nail surgery is not an
Biomechanics is the study of the body in motion; the foot is the most amazing piece of body engineering, supportingthirty-three
There are now only two qualified shoe fitters in Dorset, as more and more people shop online, and choose to fit their own